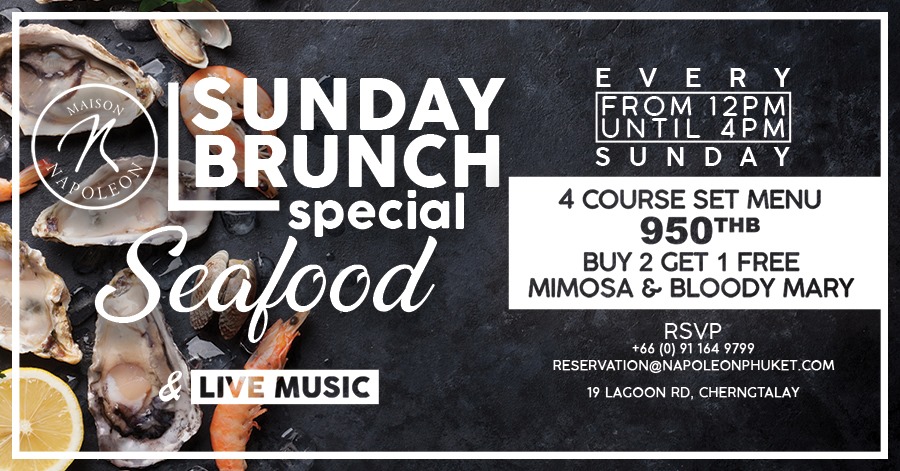 Seafood Sundays at Maison Napoleon
Sundays are all about seafood at Maison Napoleon!
 Join us from noon to 4PM and enjoy a beautiful seafood feast while listening to live music!
 You can also enjoy our full a la carte menu!
Promo: 2 Mimosas or Bloody Marys and get one for FREE! 
Contact us now to make your bookings
+66 911649799
reservation@napoleonphuket.com
Set menu 950 baht
1st course
6 oysters Fine De Claire No. 3
2nd course
Garlic prawns or Salmon Ceviche
3rd course
Pasta alla Busara
Or
Live Australian blue mussels in a creamy wine sauce
Dessert
Choose any dessert from our deli or vanilla ice-cream
Coffee or tea
—————————————-
วันอาทิตย์จะเป็นเรื่องราวของอาหารทะเล ที่ Maison Napoleon ! 
 มาร่วมรับประทานอาหารกับเราตั้งแต่เที่ยงถึง 16:00 น. กับอาหารทะเลที่แสนอร่อยพร้อมเพลิดเพลินกับดนตรีสด! 
นอกจากนี้สั่งคอกเทล Mimosa หรือ Bloody Mary 2 แก้ว รับฟรีทันทีอีก 1 แก้ว ! 
ติดต่อสำรองที่นั่งโทร +66 911649799
หรืออีเมลมาที่ reservation@napoleonphuket.com
1 เซ็ทเมนู 950 บาท ประกอบไปด้วย
คอร์สที่ 1
 หอยนางรม Fine De Claire No. 3 (6 ตัว)
คอร์สที่ 2
 กุ้งกระเทียม หรือ เซบิเช่แซลมอน
คอร์สที่ 3
 พาสต้าอัลลาบูซาร่า หรือ หอยแมลงภู่ออสเตรเลียสดในซอสไวน์ครีม
ของหวาน
 เลือกของหวานใดก็ได้จากที่ร้านหรือไอศครีมวานิลลาของเรา
 กาแฟ หรือชา