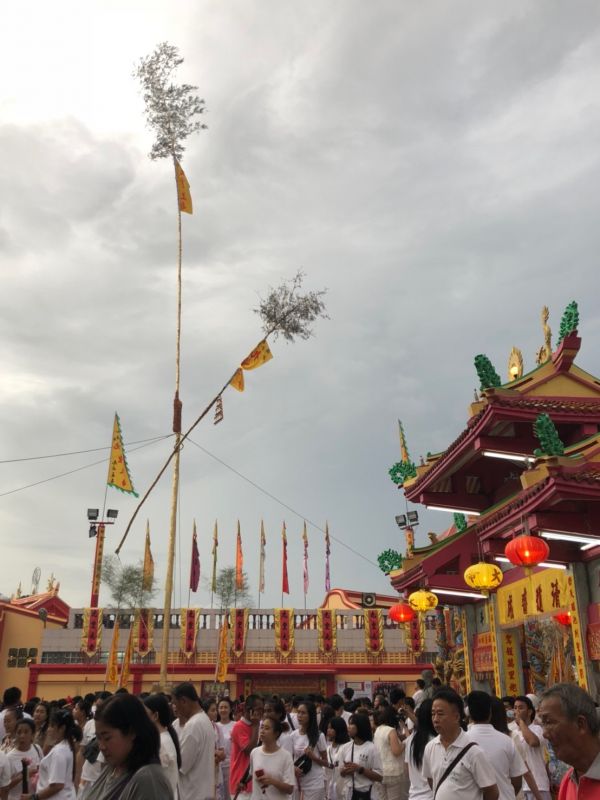 Phuket Vegetarian Festival
Phuket Vegetarian Festival
Phuket Vegetarian Festival is the annual nine-day event, celebrated by the Chinese Hokkien descendants across the island for the purposes of physical well-being, spiritual cleansing, merit-making, conferring good luck in the future, and ensuring prosperity and long life.
The most significant festival in Phuketian culture, Phuket Vegetarian Festival, is celebrated in the ninth Chinese lunar month, which this year falls on October 16 – October 25.
The history and origin of the festival
In 1825, when Phuket inhabited mostly by Chinese miners, the unnamed epidemic was spreading in Kathu Town and caused several deaths. Among many patients, some of them were the members of an opera troupe from China. They also suddenly stricken by an epidemic when they were hired to perform in Phuket.
In hope of finding a cure, the Chinese opera troupe started and led the locals to abstain from eating meat and prayed to the Jade Emperor God and the Nine Emperor Gods for a period of 9 days and 9 nights, as they used to practice during the ninth Chinese lunar month when they were in China.
Consequently, members of an opera troupe recovered their health afterwards and caused great curiosity to the locals. The practicing then widely accepted in Chinese community on the island and passed down from generation to generation until present day.
How to celebrate the festival
1. Consuming foods that consist of vegetables, except for pungent kinds such as garlic, onions, coriander and flowering garlic chives.
2. Praying and taking refuge.
3. remaining in a state of peace and calm.
Things to avoid during the 9 days of festival
1. Abstain from eating meat and killing living things.
2. Abstain from stealing.
3. Abstain from sexual behavior.
4. Abstain from telling lie.
5. Abstain from alcoholic drinks.
6. Abstain from gambling.
7. Abstain from bedecking jewelry and leather goods.
8. Avoid wearing other colors of attire to enter the principle hall of the shrine, except white attire.
9. Mourner, woman in menstruation and pregnancy should avoid participating in any kind of rituals.
10. Kitchen utensils and containers should be kept solely for vegetarian during the festival.
The vegetarian food can be found where yellow flags fly. Highlights also include Ranong Road in Phuket Town, where a stretch of yellow flag road filled with hundred of vegetarian and vegan restaurants and food stalls.
Celebrations will be taking place at all 25 shrines across the island. Some of the biggest celebrations are held at Bang Neow Shrine, Jui Tui Shrine, Kathu Shrine and Sui Boon Tong Shrine. Thousands of participants are expected to turn up to the street procession rituals in Phuket Town during the last three days of the festival, which features the firecrackers and self mutilation by spirit mediums.
If you plan to visit Phuket during the vegetarian festival and want to enjoy the street processions, fire-walking and bladed-ladder climbing rituals around the island, check here for the complete schedule including venues, dates and times.